The morning after Christmas, everyone is playing with their new toys. It's a beautiful sight. Nicholas is practicing becoming a rock star with his new keyboard and microphone that Santa brought him.
Dan is wearing his new shoes. And I'm playing with a new look on my site thanks to Dan! What do you think of the logo? He surprised me with it, and I love it!
I'm also having total gift envy. My sister got Tyler Florence's new book Start Fresh–baby food recipes for the first year.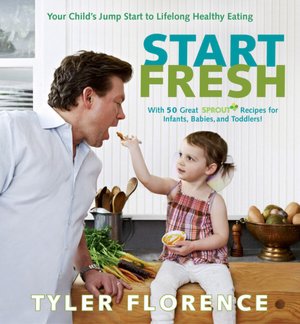 It looks awesome: Spinach and Banana pudding, Plum Spiced Applesauce, babies never knew they could have it so good. Katie hasn't really taken to solids much yet, but we'll be kicking it into high gear when we get back from holiday. So it looks like I'll be getting one extra gift for myself this year!
That, plus my new food saver system, and we should be ready to get Katie eating just like her big brother. Who is currently eating his second breakfast. Man, that kid can eat.
So, baby food to come in the new year! But for now, how about a pasta recipe? Rigatoni with Roasted Cauliflower. So easy after our big Christmas dinner.