How many holiday parties do you have this week? Tis the season for entertaining friends, family, colleagues…
Nicholas' birthday falls during this time as well. At this age, it just means figuring out how many pizzas to order at the local bounce house venue, but when he gets older I'm sure it will mean cooking vats of chili for teenage boys who want to watch the game together. Wow, I just leapt ahead 10 years.
Anyway, this week I'm serving up a couple of menus that are great for weekend or weeknight entertaining, plus a great crockpot meal for the night you're not on the go but too tired to cook!
Menu #1: Open house gathering
Everything here works great at room temperature, so you can put out on the table just before friends arrive, but you don't have to worry about keeping heat on any of it.
Even if you're not entertaining, this is a great weekend meal that you can use the leftovers for later in the week.
Roasted Salmon with Mustard Caper Sauce
Roasted Potatoes
Pear, Walnut, & Blue Cheese Salad
Wine: Chardonnay and Pinot Noir
Menu #2: Elegant gathering with close friends
Use the leftovers from the Roasted Salmon to make this easy and elegant dish. You can even make ahead for a great weeknight dinner party for 4.
Salmon Pot Pie
Steamed Green Beans
Wine: Chardonnay
Menu #3: Crock Pot Comfort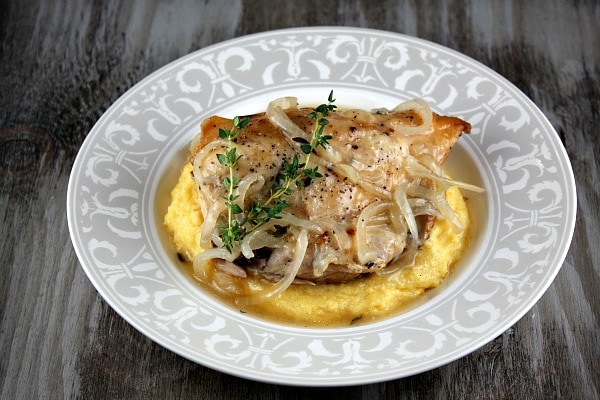 After you've had your fill of entertaining and just need a comforting crock pot meal, give this one a try. I found it on Recipe Girl's blog, and it looks amazing.
Shopping List
1 3-pound filet of salmon, skin on
3 to 4 pounds of bone-in chicken pieces (drumsticks, breasts, thighs)
red onion
yellow onion
garlic
fresh or dried thyme
orange
shallot
2 pounds assorted potatoes
green beans
mixed greens
Bosc pear
leek
Dijon mustard
capers
olive oil
balsamic vinegar
salt
cracked pepper
walnut halves
flour
frozen peas
puff pastry
cocktail pumpernickel slices
cream
butter
sour cream
blue cheese, crumbled
white wine